Bananas... we go threw phases where I can't keep enough in the house and other times when noses turn up at them and I've got a bunch of black ones on my hands. When that happens, I toss them in the freezer for banana bread at a later date. Banana bread has been the top request for breakfast for almost a week now so it was perfect timing when I saw
Money Saving Mom's
post on freezer cooking last week.
I made a few changes to the
original recipe
, so here is my version:
For the bread:
3 over-ripe bananas, smashed up
1/4 cup melted butter
1/2 cup sugar
1 egg, beaten
1 tsp vanilla
1 tsp baking soda
dash of salt
3/4 cup whole wheat flour
3/4 cup multi-grain flour (I find this replaces white flour)
For the swirl:
1/4 cup sugar
1 Tbs cinnamon
Preheat oven to 350 degrees. Spray a loaf pan with Pam.
Blend bananas, butter, sugar, egg, and vanilla together and sprinkle the baking soda and salt on top of the banana mixture. Then gently stir in flour.
In a small bowl, mix together the 1/4 cup sugar and cinnamon.
Add 1/2 of the batter to the loaf pan and then sprinkle half, or a little more than half of the cinnamon-sugar mixture all over the batter in the pan. Top off with the rest of the batter, and then sprinkle the leftover cinnamon-sugar on top.
Bake for 40-60 minutes.
Enjoy warm!
Basically, I reduced the sugar and butter originally called for and used healthier flour. Next time, I will only use 1/8 cup of sugar for the swirl and not bother putting it on top as most of that fell off when I cut it. It was a big hit, the 6 of us polished off the whole loaf for breakfast this morning!!!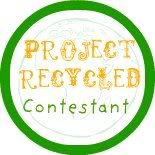 Now, before you go off looking for black bananas, be sure to hop over to
The T-Shirt Diaries
and vote for week one of this fun contest. First up was a wild card and I'm already hard at work on next week's project, I just hope I make it to week 2!!!!! You can vote once every 24 hours!
Peace be with you,