A few of my favorite blogs got together and started an exciting blog crafting contest called
One Month To Win It
. I entered my
Anthro
-Inspired Shirt for $2
and out of 90 entrants, I'm one of the 12 selected to compete!!!!!
The contest consists of four weeks of craft challenges and my mind is already racing with ideas for each of the themes which will be announced on the
OMTWI
site. Each week three contestants will be voted off
the island
. The tribal council (aka
judges
) counts for 50% of the decision and the other 50% is based on an open poll. While I won't be able to tell you ahead of time which project is mine, I will encourage you regularly to go vote. All the crafters are very talented and I am honored to be a part of this event, so as long as you vote, I'll be happy.
Wish me luck!!!!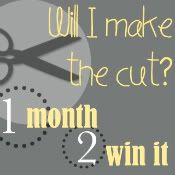 Peace be with you,