This is a dress I made last year sometime. JuneBug described to me what she wanted and then picked out all the fabric. We started with a shirt that had a stain on it as the top and embellished it with a few yo-yos and buttons to cover a little flower thing that had frayed. It's become quite a popular dress with both the girls.
The T-Shirt Diaries
is hosting another stash busting month in September!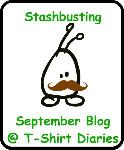 I'm signed up... are you?
Peace be with you,
I'll be linking up to some of these parties, stop by and check out the talent!
M: Made by you Mondays, Made with Love Monday, Making the World Cuter, MMM @ CRAFT, Just something I whipped up, Organizing Mission Monday, A Round Tuit, Motivate me Monday, Sharing Monday T: Sew Cute Tuesday, Handmade Tuesdays, Tip Me Tuesday, TCB, Topsy Turvy Tuesdays, Take-a-Look Tuesdays, Too Cute Tuesdays, Giggles Glitz & Glam, It's Sew fun Tuesday W: We Did it Wednesday, Night Owl Crafting, Sugar & Spice, Tea Rose Home, Upcycled Awesome, We're Organized Wednesday, What I Wore Wednesday, What's Up Wednesday T: Make It Wear It, Frogs & Snails, It's Stinkin' Cute, Making it with Allie F: Fun Friday Finds, Fingerprints on the Fridge, It's a Hodgepodge, Chic on a Shoestring, Fantastic Friday, TGIF, I'm an Organizing Junkie, Spunky Junky, The Shabby Nest, While He Was Napping S/S: KISS, Funky Fresh, Weekend Wrap Up, Nifty Thrifty