It turns out I can't read my own schedule! I thought my guest posts started this week but it's actually next week. Want to know who to watch for?
June 23rd - Christina from the
Tattered Tag
June 30th - Debie from
A Devonshire Design
July 7th - Elizabeth from
Sew Chatty
July 14th - Kim from
Too Much Time on my Hands
July 21st - Robin from
The T-shirt Diaries
July 28th - Jenny from
Seamingly Smitten
Aug 4th - Jill from
Creating my way to Success
Aug 11th - Heather from
DIY Kinda Girl
There are two slots left, email me at
domesticdeadline@gmail.com
if you want to grab a spot!
Plus, I'll be doing a guest spot over at the Country Chic Cottage on July 13th, along with other awesome bloggers, all who were a part of the first few seasons of One Month to Win It!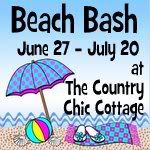 Peace be with you,