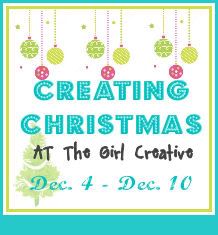 It's Day 2 of
Creating Christmas at The Girl Creative
. If you missed my day one,
check it out here
. What have you been making?
A good 20 years ago, I made a tree skirt for my mom for Christmas. The previous one she had made but it was ruined in a minor basement flood. I'm pretty sure she's still using the one I made; 5 feet in diameter made from 9 inch blocks and reversible. Then a few years back, SisterBaby asked me to make her one for Christmas. When I was visiting, we shopped for a variety of Christmas fabric, enough to make one for each of us... after all, if I'm going to make her one, I might as well make myself one right?
Flash forward to the present, and I'm still getting requests for them! Bummed that I forgot to take a picture of the one I just shipped off... I now keep a zip lock bag of pre-cut squares... whenever I have scraps of Christmas fabric, I cut the squares and tuck them into the bag until I'm ready to make another one.
Below is the one I made for myself, SisterBaby's matches mine. We started with the penguin fabric and went from there. Our Grandma Marj loved penguins and we liked the blues, this is the fun kid friendly side:
I like to make the backside one fabric, a bit more traditional.
Both sides:
Tree skirts aren't just for Christmas anymore... I've been giving them for wedding gifts the past few years... and according to O-man it makes a great cape... I just can't get a good picture of him wearing it!
If you like what you see,
I'd love for you to follow me!
Peace be with you,
I'll be linking up to some of these parties, stop by and check out the talent!
M: Made by you Mondays, Made with Love Monday, Making the World Cuter, MMM @ CRAFT, Just something I whipped up, Organizing Mission Monday, Creative Me Monday, A Round Tuit, Motivate me Monday, Jam Hands, Must Try Monday T: Sew Cute Tuesday, Handmade Tuesdays, Tip Me Tuesday, TCB, Topsy Turvy Tuesdays, Take-a-Look Tuesdays, Too Cute Tuesdays, Giggles Glitz & Glam W: We Did it Wednesday, Night Owl Crafting, Sugar & Spice, Tea Rose Home, We're Organized Wednesday, What I Wore Wednesday, What's Up Wednesday, Wow Me Wednesday, Share the Wealth, Real Momma Real Style, Your Whims Wednseday, Whatever Goes T: Make It Wear It, Frogs & Snails, It's Stinkin' Cute, Making it with Allie, Things I've Done, Everybody's Creative Endeavor F: Fun Friday Finds, Fingerprints on the Fridge, It's a Hodgepodge, Chic on a Shoestring, Fantastic Friday, TGIF, I'm an Organizing Junkie, Spunky Junky, The Shabby Nest, While He Was Napping, Upcycled Awesome S/S: Get Schooled Saturday, KISS, Funky Fresh, Weekend Wrap Up, Nifty Thrifty, Creative Bloggers, Six Sisters