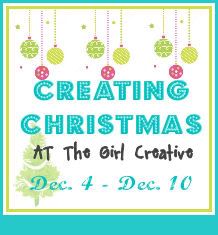 Welcome to Day 3 of Creating Christmas with
The Girl Creative
. Check out
Day 1
and
Day 2
if you missed them.
The point of Creating Christmas is to not just pin something, create something. Like the rest of you, I've been pinning tons of things that give me inspiration and have a whole Pinterest board dedicated to all the awesome Christmas ideas that have inspired me.
One particular idea that I decided needed to be created is the mitten pillow in the back of this picture:
The $69 price tag is a little steep for me and since mittens can go for the whole winter season, I'd rather go with my color scheme and my winter pillows that I made last year from
thrift store sweaters
Originally I planned on going through my fabric scraps, but a fever left the little man in my lap yesterday and while I've sewed with him in my lap before, he just wasn't up for that... crocheting it is then! Don't worry, I used yarn scraps. Now, bear with me, I have never really written a crochet pattern before. I made the first one up as I went along, wrote it down, and then tried to follow it. Please feel free to ask any questions.
Crochet Mini Mittens:
With worsted weight yarn and an H hook, chain 12.
sc = single crochet, HDC = half double crochet, DC = double crochet
Row 1: in 2nd ch from end, DC, counts as 1st stitch. DC to end, 11 stitches, turn
Row 2 of the thumb: ch 2, DC in next 2 DC, turn
Row 3: HDC, DC, HDC, turn
Row 4: Repeat row 3, turn
Row 5: 3 HDC, turn
Row 6: SC to the end and down around the inside of the thumb back down to Row 1 and slip stitch to connect, turn
Rows 2-5 of hand: ch 2, DC to end, 8 stitches, turn
Row 6-7: sc, HDC, 4 DC, HDC, sc, turn
Row 8: sc, 5 HDC, sc to end and down the hand back to the base (no real count, some DCs I did 2 stitches, some only 1, just watch that it lays flat).
Row 9-10: ch 2, DC to end, about 10 stitches, make sure it lays flat, this is the palm portion of the mitten.
Optional: add a row of fringe or an alternate color.
I love the burlap of the pinned version, but muslin was available. Since I'm constantly stash busting and trying to use what I have and not buy something new, muslin it is! Plus, it's softer anyways. I'm thrilled with the result, yes, it needs a bit more stuffing, just have to find where I put it.
Plus, it looks great with my other pillows:
Now it's time to go back to Pinterest and see what else I pinned that needs to be created this week!
If you like what you see,
I'd love for you to follow me!
Peace be with you,
I'll be linking up to some of these parties, stop by and check out the talent!
M: Made by you Mondays, Made with Love Monday, Making the World Cuter, MMM @ CRAFT, Just something I whipped up, Organizing Mission Monday, Creative Me Monday, A Round Tuit, Motivate me Monday, Jam Hands, Must Try Monday T: Sew Cute Tuesday, Handmade Tuesdays, Tip Me Tuesday, TCB, Topsy Turvy Tuesdays, Take-a-Look Tuesdays, Too Cute Tuesdays, Giggles Glitz & Glam W: We Did it Wednesday, Night Owl Crafting, Sugar & Spice, Tea Rose Home, We're Organized Wednesday, What I Wore Wednesday, What's Up Wednesday, Wow Me Wednesday, Share the Wealth, Real Momma Real Style, Your Whims Wednseday, Whatever Goes T: Make It Wear It, Frogs & Snails, It's Stinkin' Cute, Making it with Allie, Things I've Done, Everybody's Creative Endeavor F: Fun Friday Finds, Fingerprints on the Fridge, It's a Hodgepodge, Chic on a Shoestring, Fantastic Friday, TGIF, I'm an Organizing Junkie, Spunky Junky, The Shabby Nest, While He Was Napping, Upcycled Awesome S/S: Get Schooled Saturday, KISS, Funky Fresh, Weekend Wrap Up, Nifty Thrifty, Creative Bloggers, Six Sisters