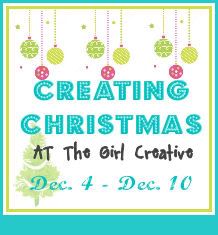 I'm back with one last project for
Creating Christmas with The Girl Creative.
Tomorrow is the link party, are you ready?
Today is Day 6, check out
Day 1
,
Day 2
,
Day 3
,
Day 4
and
Day 5
if you need to catch up.
I think Creating Christmas should have started a month ago, I still have so many things that are pinned that I want to make!
Today I pulled out my bag of drift wood from Linwood beach on Lake Erie this past summer. Over the years I've had lots of ideas of things to do with drift wood, but never had any when I had the idea... and of course never remembered what I wanted to do when I had access to unlimited drift wood, isn't that the way it always is? But, one day in July, I grabbed a few buckets and had the kids fill them up with tons of it for me and it's been in my basement ever since with this in mind:
So as I sat with my drift wood, a new idea brewed, and I'm soooooooooo thrilled with the results:
from this
to this
The girls helped me lay out the drift wood and I glued it in place, making sure to put the glue on the lowest point, ie, where it would touch the canvas. Once it dried I had to come up with a way to hang it. It's kind of creative, but really only has to last until my mom and dad come to visit, they are the experts at hanging artwork! Besides which, my mom is mesmerized by duct tape, so she'll get a kick out of this:
A close up of the final piece:
If you like what you see,
I'd love for you to follow me!
Peace be with you,