A few months ago I started seeing things in yellow and gray and fell in love with the combo. One night after looking online at a few of my favorite clothing sites I realized I had a dark gray t-shirt in my stash and lots of pretty yellow fabric. A few hours later I had a new comfy spring/summer dress:
Confession: I had a great dress in a few hours but it was waaaaaaayyyyy too short and I decided it needed a contrasting band. Since I didn't have any gray fabric I picked up the black and white with yellow flower print the next day and added it. I'm so glad I did, it so made the dress. I'm still trying to use up my stash and only buy what is necessary so I still consider this a success for stashbusting!
Here are a few of the dresses that inspired me, I like them all but mine the best!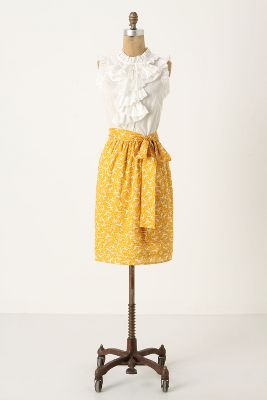 And there were actually a few others that really inspired me but of course I can't find them when I went to look but I saw a ton more I love that gave me way too many ideas! Aaaaahhhhhh, what's a girl to do?!?!?
Peace be with you,