Not only is today the deadline to file your taxes but it is also one week until Earth Day! Ok, maybe I'm a bit of a geek, but I feel taking care of the planet we live on is everyone's daily job. If it takes a "holiday" to make some people remember it, I'll take it.
Earth Day is also the last day of The T-Shirt Diaries Spring Stashbusting Challenge. I've done petty well but I'm going to be continuing to work through my stash for a few more weeks, that's for sure.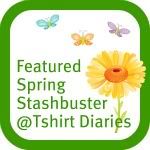 Next Friday is also the last day to enter my
Stash Busting Give-a-Way
and earn $75+ in Avon products and more.
This Earth Day I will also be a part of the Earth Day Blog Hop hosted by Kristina over at
A Home Made by Kiki
!
This will be a fun event to "meet" some different bloggers, "collect" something from each blog, enter each of our give-a-ways, and if you travel to all the blogs, be eligible for the awesome grand prize!
Peace be with you,