I'm really not sure where the summer has gone. I know we've done a lot, but I always feel like there was so much I wanted to do but didn't get to when summer ends.
However... I also always feel like the change of season is another fresh start... and it doesn't hurt that the kiddos head back to school in just a few days! So even though I'm sad to see summer come to an end, I'm really excited for what this new season will bring me. I've got a growing to-do list and September is going to tackle a ton of it, I'm positive.
No, I can't see the future, but September does mean Stashbusting over at The T-Shirt Diaries.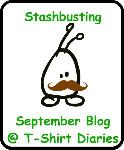 For me, Spring Stashbusing was a HUGE success and while I think I've done pretty well in not adding too much to my stash this summer, I still have more busting to do (isn't that the way it always is when you're a crafter though?). Do you remember this
My floor puffs were a major Stashbusting project and a guest post on The T-Shirt Diaries last spring. PLUS, they came in handy for the kids and I to sleep on during Irene when it was time to take cover (especially since my air mattress pump died...). I'm going to be doing another guest post, yea!!!
PLUS, September is the
Retro Pillow Challenge
over at
Sew La Vie
and
Ricochet and Away
If you are on Pinterest, I've started a board for my inspiration (feel free to follow me there). I've never quilted so this should be interesting...
AND I'm going to stashbust some of the blog posts that I've taken pictures for and mentally written but haven't showed you yet!
There you have it, I'm excited for September, which actually starts in 42 minutes... I'd love for you to follow me in my adventures and tell me about how you're going to take advantage of this new season!
If you are a new follower, please leave me a comment and I will gladly follow you back! Make that 40 minutes... I better go to bed so I can start September on the right foot!