My family has already started our Thanksgiving vacation... IronFish got home on Sunday from 10 days in India only to drive with the rest of us out to Indiana... sorry, babe.
We arrived safely after a completely uneventful 12 hour drive where I must say, even the 3 year old was pleasant 11.5 hours of the trip, amazing! We'll spend this week visiting family and friends in Indiana and Ohio before heading back to the east coast on Saturday.
I just wanted to pop in and say thank you to all my followers and bloggy friends out there. I'm approaching a year of blogging and it has been quite an adventure. Starting this last fall really helped me to get through what is typically a tough time of year for me as dreary weather tends to effect my moods. I hope you'll continue to stick with me as I continue to create and share my life and family with you all. For you I am very thankful.
I promise to be back next week with some fun projects and I'm so excited to participate in
The Girl Creative's Creating Christmas Event!!!!!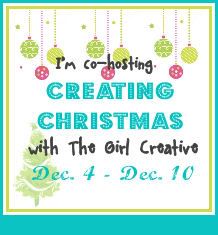 The long car ride has given me time to think of some fun projects. I hope you will join me. Now, I'm off to Wal-mart to buy tooth brushes because I (and all three kids) forgot to pack them!
Peace be with you,